A mortgage top up is managed by your Lender, but you must notify the FHS of your intention to top up.
A mortgage top up is a loan that allows you to borrow more money against the current value of your home to spend on things like improving your home.
Customers who have an equity facility with the FHS are allowed in all circumstances to apply for a mortgage top up with a Participating Lender subject to that lender's mortgage top up criteria and application process.
You must notify the FHS of your intention to top up your mortgage with a Participating Lender, and the FHS must confirm that it does not object to the mortgage top up as a part of the mortgage top up application process.
You can notify the FHS of your intention to top up your mortgage by completing a Mortgage Top Up Notification form which can be accessed through the FHS customer portal and providing us with supporting documentation (if required).
Customers who have an equity facility with the FHS and want to switch and top up their mortgage, as part of the switching process, should see switching your mortgage for more information on the steps involved in this process.
FHS criteria for mortgage top ups
The purpose of the mortgage top up must be for home improvements, medical, educational needs or to redeem (buy back) the equity share partially / in full
Customers must retain a minimum of 10% equity interest in the property after the mortgage top up
Mortgage Top Up Notification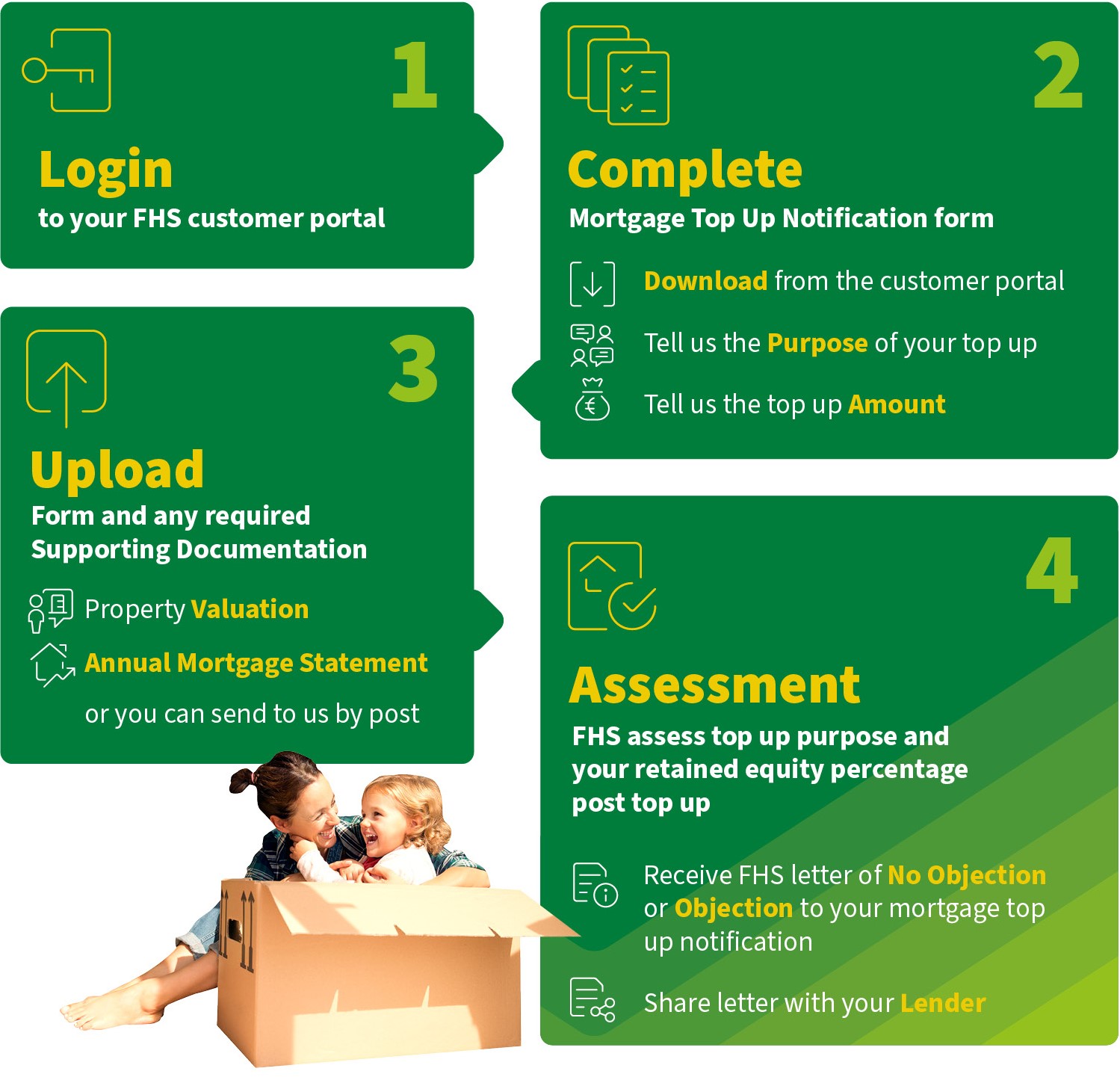 Login to your FHS customer portal
Complete
Mortgage Top Up Notification form

Download from the customer portal
Tell us the Purpose of your top up
Tell us the top up Amount

Upload (or you can send to us by post)
Form and any required Supporting Documentation

Property Valuation
Annual Mortgage Statement

Assessment
FHS assess top up purpose and your retained equity percentage post top up

Receive FHS letter of No Objection or Objection to your mortgage top up notification
Share letter with your Lender
WARNING: We strongly recommend that you seek advice from an independent financial adviser and legal adviser if applying for this product.
WARNING: Property prices can go up and down. As the equity facility is linked to the value of your home, any change in property prices will affect any partial or final redemption amounts. If property prices increase/decrease over time, the percentage equity you have to redeem will remain the same but the € amount will increase/decrease. See example in the case of a price increase below:
Customer purchases a property for €250,000, availing of €25,000 from the First Home Scheme (FHS) which means the FHS has a 10% FHS equity share in your home.
Sometime in the future you decide to buy out the FHS equity share. The home is now valued at €350,000. As the FHS equity share is unchanged at 10%, you will now need €35,000 plus any accrued service charges payable, to redeem the FHS equity share in the home.
WARNING: The First Home Scheme is not regulated by the Central Bank of Ireland and the equity product is not governed by the Central Bank and its statutory codes of conduct and/or other regulations to include the Consumer Protection Code. However, this does not affect your rights under consumer law.